Finalized Playoff Teams
Eastern Conference
Celtics Vs Hawks
Yes that's right. Garnett is the face of the Celtics, not paul peirce no more. Since he came to Boston, there had been a major reversal in Boston in terms of result and the spirit of the fans.
Well, Joe johnson better wake himself up for this playoff series. Coz if they don't, it would be a fast series for them. Hawks managed to get into the playoff due to weak conference they were in. Their recent form had been nothing short of yo-yo and they dun seem they can endure Celtics's experience and tenacity.
Best Case Scenario: 4-0. Celtics for the sweep.
Worst Case Scenario: 4-3. Still a Celtics win. But they would be wasting a lot of energy too early in the playoff with 7 games.
Cavaliers Vs Wizards
What again??? There's gotta be some conspiracy here. For the third time in a row, Cavs are drawn against Wizards. But will they kick Wizard's ass for the third time? Last season playoff was crap. Wizards were marred with injuries to their two player, Caron and Arenas. The series is basically over even before it was over. However this year, wizards is good to go. With two playoff season experience, return of their stars and the addition of good bench player(roger mason and nick young), they would make it hard for the Cavs.Hopefully.
hmmm.. the Cavs looks like Fool's gold to me.. They look good because and only because of King James. Their team doesn't seem to gel much since making the latest trade. They are still quite stable offensive-wise since Lebron is doing the major scoring. But defensive-wise, hopefully the Ben Wallace of Pistons Championship team would showed up and start treating his contract with respect.
Best Case Scenario : 4 - 2. Lebron will drive, dunk, shoot and
travel
his team to victory.
Worst Case: 4 - 2. This time in Wizards's favour. Playoff series without lebron?? That's like eating a burger without the patty

Magic Vs Raptors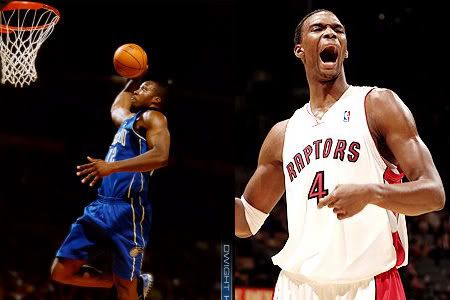 Matchup between Dwight Howard and Rasho Nestorovic would be a interesting one. Rasho might no be as well-built as man-child Howard. But he is a intelligent player who uses his brain to counter brawn. Raptors's Jose Calderon is playing superbly this season too. Don't be surprised to see him pop up to take some buzzer-beating shots. Rashard Lewis might be undersized compared to Bosh but he can shoot the 3's pretty damn well when he's in the "zone". Pulling Bosh out to the perimeter might do Howard lots of favour.
Best Case Scenario: 4 - 1. Magic doing a clean job of kicking raptors ass.
Worst Case: 4 - 3. Magic has a bad habit by being over-confident and losing to teams that they are supposed to win.

Pistons Vs Sixers
Nothing much to say here. Andre Igoudala might be the best but yet cheapest($2.8m per season) player this season but he wouldnt be able to do the job alone against Pistons. The Pistons have simply too much arsenal of offensive and defensive moves to unleash on Sixers and needless to say, the core of the team who had underwent many playoff' series together.
Best Case Scenario: 4 -0. Short and sweet. Next Team please.
Worst Case: 4 - 3. Igoudala playing like a man possesed, sapping the Pistons energy for the remaining series. Still Pistons for the win
Western Conference
Lakers Vs Nuggets
3 NBA superstar in a single series. Iverson, Carmelo and Kobe. I already bookmarked this series as my favourite. The nuggets had been rather inconsistent this season. They can win any team on their night but lose to a mediocre team by 20+ points the other day. However, Lakers have been playing superb basketball. Credit to Phil Jackson. Lakers now is a team-first basketball team where every role of the team is of playoff calibre.
At guard, there is Famar, Fisher and Vujacic who can all stroke the 3's. At forward, Odom and luke walton can rebound, pass and score. At center, they have Pau Gasol and Andrew Bynum(provided he manage to recover in time). This is a team is have a deep bench and a excellent front court. Throw Kobe into the equation and you will have a team that is ready to challenge for the Ring.
Nuggets tend to be individualistic when they are not playing well. You would see Iverson hogging the ball, follow by Carmelo hogging the ball and yes! even Kenyon Martin hogging the ball. But their front court look strong too. Marcus "i got your back" Camby gotta be at his blocking best to denied Bynum,Gasol and Odom.
Best case: 4 - 2. Lakers won't be breaking a sweat here.
Worst Case: 4- 3. Nuggets pulling a Mavs-Warriors on Lakers. Warriors did it with Baron Davis so why not Nuggets with Carmelo and Iverson.

Utah jazz Vs Rockets
Deron William was injured and his replacement,Ronnie Price, doesn't have the capacity yet to take over Deron's offensive and leadership role. Hopefully Deron would be back for at least of the series. Rockets got their fair share of injury too. Rafer alston is injured and so is their star center, Yao Ming. T - mac would take alot of burden to carry the team alone.
Best Case : 4 - 0. Utah Jazz front court look too strong for Rockets.
Worst Case : 4 - 3. Rockets dragging the series to 7 games.
Spurs Vs Suns
Well well, what have got here? Shaq/Stoudamire - Duncan, Parker - Nash, Ginobili/Bowen - Barbosa/Diaw. The combination of Shaq and Stoudamire might be able to wear Duncan down. Nash might be getting slower and older but he is still sharp as a needle. Both team can shoot the 3's and can play in the paint. Rather similar team except Suns runs much more than Spurs.
Best Case : 4 - 3. Shaq moving one step closer to the championship.
Worst Case: 4 - 3. Spurs winning and proving Shaq's move from Heat and Marion moving to the opposite direction was a bad move.
Hornets Vs Mavericks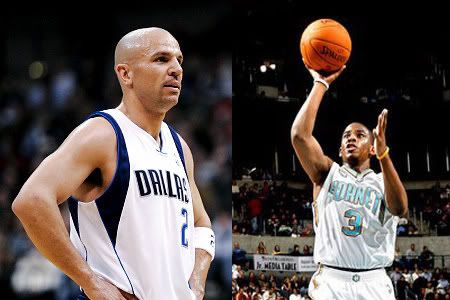 Last season, Avery Johnson spoke of peaking too early in the season. This year i still don't see them peaking anytime soon. Ever since they made the move for Jason Kidd, the situation didnt look too promising. Maybe Kidd was still trying to fit into their system. But once he knows where Dirk's hotspot is, all will be good.
What a year it had been for Hornets. 2 players(West and Paul) got their first All-star appearance and the event was held at New Orleans too. But the team is too inexperienced despite most players been in Playoff before while playing with previous teams. Chris Paul is the only reason why Tyson Chandler is looking rejuvenated, the only reason why David West and Peja keep finding open spot. However their bench look thin. I don't think they would be able to last long enough.
Best Case : 4 - 1. Mavs proving that the Kidd's move was right.
Worst Case : 4 - 2. Hornets can continue their playoff dreams for one more series.
Labels: nba playoff 2008, news