Recap of April 23rd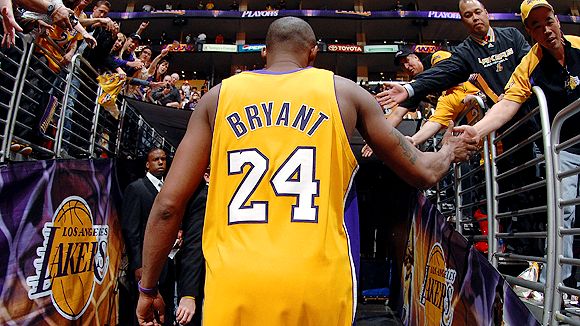 Kobe came back from a poor shooting night in Game 1 to score 49 in Game 2. He shoot 18-of-27 for 49 points and still had time for 10 assists. He was pretty much in the da zone and everyone knows that no one can stop Kobe from taking over when he's in the zone.
Pau Gasol, after leading the Lakers with 36 in Game 1, scored only 18 in Game 2. Luke Walton, on the other hand, exceeded his Game 1 output and scored 18, adding seven rebounds and five assists to go along with it.
Nuggets was again uninspired and let's see what they can do at Home court now. Iverson had 31 pts, 10-21 FG, 10-13 FT.
Best player : Kobe. 49 pts and 10 assist. Not much argument here.
Worst Player : JR Smith. He might be the reason why KB24 got so riled up this game.Look below.
Kobe reacts to Jr smith's trash talking ,

"Better learn not to talk to me. You shake the tree, a leopard's gonna fall out."
No more fooling around this time. Pistons did a clean job of finishing Sixers and they did it well.
Best Player : Richard Hamilton. 20 pts, 9-16 FG. Nice bounce back from Game 1.
Worst Player : Andre Igoudala. 4 pts, 1-9 FG. Very very very bad stats for a franchise player.
Much focus generated from pre-game were the comments made by Bibby. The Hawks veteran point guard riled up the City of Boston by calling Celtics fans "bandwagon jumpers" and "fair-weather" before Tuesday's practice.
It was said that he was trying to take the stress off the younger players but i dun think it turn out well. The boisterous Boston fans responded by heckling and booing Bibby from Hawks player introductions until he left Game 2 against the Celtics on Wednesday night with 3:43 remaining in the fourth quarter.
Anyway the game was non-memorable as Celtics quickly finished off the Hawks.
Best Player : Ranjo Rondo. 12 pts 8 assists 6 Rbs 4 steals and only 1 turnover. Stat-sheet stuffer
Worst Player : Mike Bibby. For running his mouth off and playing like crap.
Labels: nba playoff 2008, news